Even the strongest leaders (and their teams) are bound to experience hiccups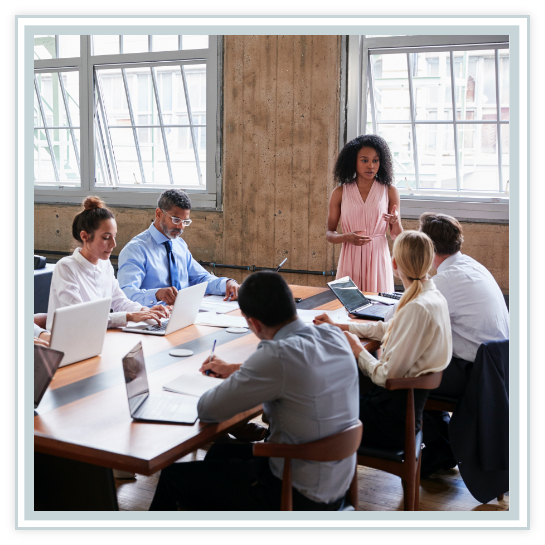 What worked yesterday may not work tomorrow — or even today. And what makes sense for one group of people might spell disaster for another.
This is the reality of the modern workplace: organizations are becoming more complex, the landscape of work is constantly shifting, and every team has a unique blend of goals, people, personalities and strengths.
I partner with organizations, leaders and teams to enhance performance and bring out the best in their people.
You may have questions like…
"My team is chugging along well, but I'm sure we can be even better. What changes can we make to go from good to great?"
"How do I keep my team motivated and tracking towards our goals?
We're experiencing a number of shifts in our staff and company structure. How can I create a sense of unity during times of change?"
"We're expanding and/or have a widely distributed/remote team. How can I ensure my team feels connected and communicates effectively?"
"There are some strong personalities on my team. How can we get everyone contributing equally and utilize everyone's strengths across the board?"
"I know that if we could communicate better, approach conflicts differently, and improve collaboration, we would be a stronger team. Where do I start?"
As an organization development expert, I'm able to provide a unique perspective and actionable guidance to help you identify opportunities for growth and overcome challenges at the individual, team or leadership level (and most often, all three).
If you'd like to discuss how we can partner to strengthen your team and create a culture of high performance, productivity and connectedness, click the button below to start the conversation:
Ready to start the conversation? Let's talk
---
More on my approach:
Most "people" problems within organizations can be traced back to one (or a mix) of three sources: leadership challenges, partnerships within a team, and individual dynamics.
On the flip-side, high functioning teams are dialled in at all 3 levels:
They are guided by an empathetic, responsive and self-aware leader, who knows how to unite their team around a shared vision.
Strong partnerships within a team create bonds that ensure each individual is actively furthering the organization's goals and vision.
At the individual level, each person understands who they are and what they bring to the table. They are not only competent performers, but skilled communicators and able to resolve conflicts as they arise.
Teams, leaders and people perform at their best when they are completely in-sync and onboard with a shared vision and goals.
It's my job to help organizations execute on that vision and give teams the insights, resources and support they need to make it happen. Here's my 3 step approach for how we'll make that happen:
STEP 1: GATHER INFORMATION
Before we can make changes, it's time to get a balanced perspective on your core issues at the team-level, and as individuals too. This stage typically involves conversations with leaders and team members to understand the unique blend of skills, competencies and personalities that make up your team and its culture.I also use assessments to help you and your team see yourselves clearly — as individuals and as a whole.
We'll get a clear picture of what's working well, and what could be improved. You may be surprised by what we uncover at this stage. It's not uncommon for leadership and team members to have different stories or perspectives, and I'll help you make sense of them all.
STEP 2: DEBRIEF AND ACTION STEPS
Next, I help you make sense of these insights, and turn them into actionable recommendations for your team.This might include skills development in areas like communication and conflict resolution. It's likely that we'll also discover some small but powerful tweaks you can make as a leader to bring out the best in your team.
STEP 3: IMPLEMENT
Sometimes, you'll be ready to take action on your own, and this will bring our engagement to a close. But most often, we'll continue working together to help you turn those recommendations into action.
Depending on the level of support you need, I can continue working with just you as the leader, or we can create a customized training event (such as a half-day, full-day or 2-day workshop) for your team (or for certain staff members) to help you grow in the most important areas.
"Henry Ford said, "coming together is a beginning, keeping together is progress, working together is success."

Our organization recently experienced an extraordinary amount of change and staff transitions. It was time to come together, stay together and learn how to work together. In two days, Ron was able to create a safe, supportive and fun environment that allowed our teams to connect, get to know each other, honor the wisdom in the room especially focusing on ways to encourage our quieter employees to speak up and trust the process.

Ron was able to adjust easily when the team needed more time to explore some challenging issues. He read the room extremely well and maintained an objective, non-judgmental position which invited everyone to lean-in to the conversation.

We will utilize Ron's skills and insights regularly into the future. Ron is a very talented, genuine and progressive practitioner."

Neal Newman, President
TwoTen Footwear Foundation
READY FOR SUPPORT?
Use the button below to send me a message. I'll get back to you within 48 hours to discuss your unique challenges and goals. We'll create a custom plan to improve performance, strengthen bonds, and build an unbreakable team culture: